The most dreaded season of the year has embarked on us, its swimsuit shopping time. You can't run from it forever. At some point you need to wear a swimsuit this season. The bombardment of fashion terminologies in regards of swimsuits can dumbfound anyone. Choosing the right swimsuit can be exhausting for some as you need to choose the most flattering style for your body type out of hundreds of options available. Your choice of swimsuit can make or break your personality. If you fail to choose the right fit for you, you might end up having more insecurity.
To avoid such situations we have put together a list of priceless tips from best styling experts around the world. There expert tips will inspire you to try new styles that might be the best for you. They might even change your outlook towards swimwear shopping.
Find the Perfect Size:
The size that you buy for your regular clothes might not essentially be the perfect size for your swim wear. To figure out the size that's right for you, you need to try on various sizes available for that specific piece. Trying on the swimsuits is not a possibility when you are shopping online. That is why it is recommended to shop in actual store so you can try various styles and sizes and choose the one that's perfect for you. Try a bigger size because it's better than you trying to squeeze your body into a smaller one creating bulges and lumps.
If you want to buy super chic swimsuits, while remaining under budget then look for
discount coupons
available on many websites like EMUCoupon.
Focusing on your Assets
Try to focus on the best part of your body. This will help you deal with self-consciousness. If you have great bust choose a top with plunging necklines. Don't wear a one piece swimsuit if you have a flat stomach. Show it off by wearing two- piece swimwear. If your best assets are your tall legs emphasize them by wearing high cut bottoms. Wear one piece in solid color if you have a narrow waist. It will flatter your frame.
Hiding the Insecurities
By wearing a right swimsuit style you can hide your insecurities. It can create the perfect illusion that will give you confidence to face the world. You should go for a high cut bottoms if you think that you have bigger hips. Interesting prints and simpler style will also help take attention from your body parts you are insecure about. If you have a flat bust, then go for a padded top. A little detailing like ruffles can help balance the silhouette. If you have a belly pouch don't go for glossy fabric and don't opt for tight tankinis that bring focus to your stomach. A one piece with ruching on side or a wrap style can work wonders. In this case belted style might also help conceal the lumps and bumps.
Colors and Prints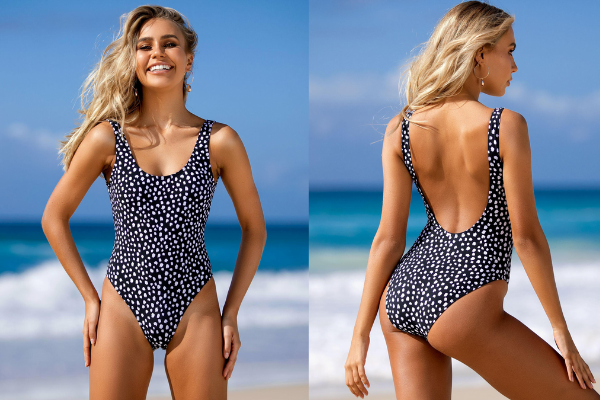 Right coloring and print of your swimsuit can make a huge difference in the overall look. Smaller prints can make you look bigger. While big prints are the better choice because they slenderize your body by making it look like there is less surface area. If your stomach is not flat stripes can be your worst enemy. Shiny fabric is not best for curvy frame. Neon swimsuits are quite trendy these days and look stunning on darker skin tones. Solid colored swimsuits work almost for all body types. Don't be afraid to play with color by sticking with the basic black.
Swimsuit Straps
Choosing the right straps for your body type is another vital point when shopping for swimsuit. It has ability to make or break the look. If you are insecure about your shoulders being wide, a strapless piece will draw attention straight to your shoulders. A Symmetrical halter top will expose your shoulder caps and not in a good way. While asymmetrical one shouldered top will make your shoulders look slender. A halter top has a tendency to create lump of armpits fat on curvy frame Go for something that goes all the way over to shoulder covering that area.
Detailing
Detailing is very important because it can make or break a look. A little embellishment on top can create an illusion of bigger bust. Sharp lines on bikini are going to emphasize sharp lines on your body so opt for more fluid neck lines. Scallops are best for a petite figure. Ruching on the sides of one piece or a bikini bottoms are super chic. By adjusting them you can always choose between a high cut and a low cut leg. But keep in mind that detailing on the wrong place can ruin the whole look.
If you want to buy super chic swimsuits, while sticking to your budget then wait for the discounts offers and the end of the season sales. You can get bikini style swimsuit by using
City Beach promo code
.
Benefits of an Underwire
A little support can work wonders in the term of swimsuit. Underwire top not only give support but also boosts your assets. Underwire that's visible is fashionable these days. You can accentuate your curves by purchasing underwire bra at a discounted rate on sale. This way you can appear on a budget.
Comfort
Before making the decision think again whether you will be comfortable enough to go out in this swimwear? Sexy or not you should be confident with the amount of skin you are showing. Too tight or lose swimsuit can ruin your day. Therefore, put your comfort above all.
Stop Comparing
You should have realistic expectation regarding the end result. Do not compare yourself to Instagram influencers because it will always lead to disappointment. Enjoy what you wear and carry it with confidence.
We understand, you want to look a million bucks when you attend a beach party with your girls. If your budget doesn't allow that, don't worry. You can always stock up on your favorite swimwear during the sale season. To maximize the savings, you can use saving coupons that you have collecting all year around. Flaunt your curves and show the world what you have got without exceeding your budget.
Published on: December 23, 2020